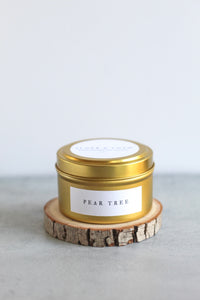 Our Pear Tree Soy Candle is a unique blend of pear, citrus, and floral notes with a mix of amber and oakmoss . Perfect in any room, our candle will fill your home with a warm sweet floral scent.
Note Profile:
Top: Apple, Citrus, Sage
Middle: Pear, Lavender
Bottom: Oakmoss, Amber, Musk
Each of our candles are handcrafted with all natural, American grown soy wax, cotton wicks and high quality fragrance oils. Our candles are hand-poured and individually labeled by hand.
Since soy wax is a natural material, each candle may have its own look and/or texture.
Trim your wick to 1/4-1/8 of an inch in length every time you burn. You will get optimal burn time and little to no soot or residue build up.
Burn time: Approximately 30 hours