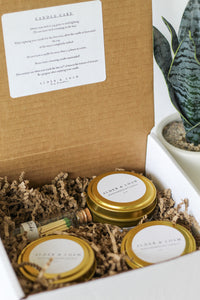 Try our seasonal candle bundle before purchasing a larger size! Fragrances will change when we introduce our limited candles for the season. Each box will vary in number of candles and will include a jar of matchstiks with a strike pad on the bottom. Our Fall box includes:
Autumn Woods
Fall Nights 
Harvest Spice


Burn time:
4 oz Tin: 30 hours

Each of our candles are handcrafted with all natural, American grown soy wax, cotton wicks and high quality fragrance oils finished off in reusable containers. Our candles are hand-poured and individually labeled by hand.

Since soy wax is a natural material, each candle may have its own look and/or texture.

Trim your wick to 1/4-1/8 of an inch in length every time you burn. You will get optimal burn time and little to no soot or residue build up.